<![if !vml]>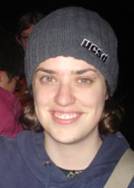 <![endif]>Kelly Lagor
Contact Information
University of California San Diego
Natural Sciences Building Rm #6322
La Jolla, CA 92093-0380
Office Phone:  858-534-7105
Lab Phone: 858-534-4979
Fax: 858-534-5543
e-mail:  klagor@ucsd.edu
Research Interests
My research is focused on understanding how compatibility is established in host plant species during the infection process by the root knot nematode, Meloidogyne incognita.  In Dr. Steve Briggs laboratory, I am examining data generated from high throughput profiling methods (microarray and LTQ tandem mass spectrometry) of infected and uninfected root tissues from Arabidopsis thaliana to identify genes of interest for further investigation using a novel promoter pull-down method.   In conjunction with Dr. Trey Ideker's laboratory, we hope to use data generated from these experiments as well as known protein-protein interaction data in Arabidopsis to generate a network model to describe the nematode infection process.
Education
B.S.  Biological Sciences.  The George Washington University.  Washington, DC
         Honors thesis research on a putative GABA permease in Arabidopsis
About Me
I spend my spare time indulging my love of bad horror movies and film music.  I do a little composition of my own and also enjoy reading and writing fiction.